Award for consumer finance outreach
The Authority is delighted to announce that Claire Whitelegg, Senior Manager at the Financial Services Authority, recently received a prestigious award at the Chartered Insurance Institute, Building Public Trust Awards 2019; the "Building Public Trust, Consumer Marketing and Awareness Award". 
The Awards, presented by TV personality Chris Hollins, were held in the newly renovated Painted Hall in the Royal Naval College in London.  Claire was joined by Hazel Gurry from the Authority who was also heavily involved in the Authority's consumer work during 2018.
Claire was nominated for her foresight and energy in running an events programme putting on Family Finance Days, following on from a successful "Isle of Man Pension Matters" campaign, after the Isle of Man Government's decision to bring in Pension Freedoms, and was announced as the award winner for "a campaign that has kicked off a very strong collaboration and good working relationship between the regulator and advisor community, whilst also building public trust with an excellent educational event."
Claire was also one of two finalists for the "Building Public Trust – Consumer Champion Award." The other finalist, Martin Lewis OBE of moneysavingexpert.com, was the winner in that category.
On her award Claire commented "it was a wonderful surprise to win the "Building Public Trust – Consumer Marketing and Awareness Award" and an honour to be a finalist in the same category as Martin Lewis. Raising knowledge and awareness for the Manx population of personal finance and investments is an important initiative about which I am very passionate.
I want to say a huge thank you to everyone who was involved in the consumer campaigns last year, within the Authority, in industry and in the wider community. Without that support and input we would not have had a campaign. Whilst winning the award was brilliant, the more important thing was the impact that the campaigns had on IOM consumers."
The Authority is continuing to champion the importance of good quality, relevant information for the Manx public and has recently upgraded the consumer part of its website https://www.iomfsa.im/consumer-material/consumer-awareness/ to help further develop work in this area.  The Authority has also committed to participating in this year's World Investor Week in the autumn.
The key messages from the 2018 World Investor Week were:-
A Smart Investor
Checks that an investment adviser is qualified and works for a regulated firm
Conducts research on a product before investing
Assesses the impact of fees when choosing an investment
Understands that risk exists in all investments
Avoids "get rich quick" and "can't lose" schemes
Recognises the power of compound interest
Recognises the importance of diversification
Plans for and invests according to his/her future needs and goals
Recognises the benefit of long-term, regular and diversified investment.
Additionally a Smart Investor investing in initial coin offerings, digital assets and other online investments:
Understands the risks that are associated with initial coin offerings and crypto-assets in general and is careful in deciding whether to invest in these products
Does not forget about the importance of due diligence when considering investments in online and digital environments
Recognises the red flag warning signs of online investment fraud
Never invests based solely on a celebrity endorsement
Knows that most legitimate firms do not allow their customers to use credit cards to make investments.
About World Investor Week (WIW)
World Investor Week (WIW) is a worldwide campaign to raise awareness about the importance of investor education and protection, promoted by the members of the International Organization of Securities Commissions (IOSCO). WIW highlights the investor education and protection initiatives of securities regulators around the world. IOSCO members believe that investors with a deeper understanding of key financial concepts and of financial markets and financial instruments, are better positioned to recognize and evaluate the choices available to them to maximize their financial potential and reduce their risks of becoming victims of fraud or scams.
IOSCO members participating in the campaign provide, in their own jurisdictions, a wide variety of activities such as launching of publications or services, promoting contests, organising events like workshops and conferences, and conducting local/national campaigns.
For more information on WIW: https://www.worldinvestorweek.org/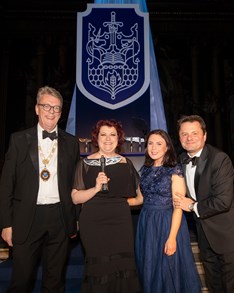 Left to right: Jonathan Clark, Claire Whitelegg, Hazel Gurry, Chris Hollins