IOMFSA appoints new General Counsel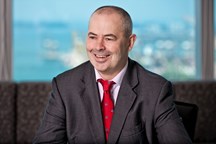 We are pleased to announce that Paul Freeman has joined the Authority and will take up the role of General Counsel with effect from 6 July 2020. Tom Maher will be retiring as General Counsel from that date but will continue in a consultant counsel role moving forward as he embarks on semi-retirement.
Paul comes to us with a wealth of international regulatory experience, most recently as a Partner with global law firm Clyde & Co in Singapore with a speciality in the aviation and insurance sectors.   A graduate of Cambridge University, Paul's career has involved numerous senior leadership roles in his 30 years of practice in the legal profession managing high profile cases which touched on criminal and regulatory prosecutions.  Paul was one of the lead lawyers acting for Malaysia Airlines in relation to the shooting down of MH17 and the loss of MH370. Those cases involved dealing with global regulators, governments and the press at the highest level.
Paul has returned from Singapore and is working for the FSA remotely from his UK home until the Isle of Man Government lifts travel restrictions and it is safe and appropriate for Paul to move to the Island.
Karen Badgerow, CEO of the FSA commented: "We are delighted to have been able to attract someone of Paul's calibre to join us as a senior legal advisor to the Executive and Board. The breadth and depth of his international legal and regulatory experience will be a great addition to our senior management team. In these challenging and unprecedented times, Paul's crisis management experience will be an invaluable resource for our teams. We look forward to welcoming Paul to the FSA and the Isle of Man."
Paul Freeman commented: "I am excited about the challenge of bringing my international insight and experience to the senior management team at the FSA and working hard to help the Board and Executive supervise and support industry through this unprecedented period of global uncertainty."
As many of you will know Tom Maher was the first General Counsel for the Authority. We have benefited from his vast experience and his deep desire to improve how we work and engage with industry and our other stakeholders. We would like to thank Tom for his dedication to the Authority and for helping us to transition to a very talented successor in Paul Freeman.