DNFBP final deadline reminder for annual return and annual oversight fee due 1 November 2020
Please note the deadline to pay the fee (if overseen by the Authority for designated businesses AML/CFT Oversight) and submit the annual return is 1 November 2020. Any annual return submitted or fees paid after 1 November 2020 will be issued a civil penalty in line with the below table and the Designated Business (Civil Penalties) Order 2015.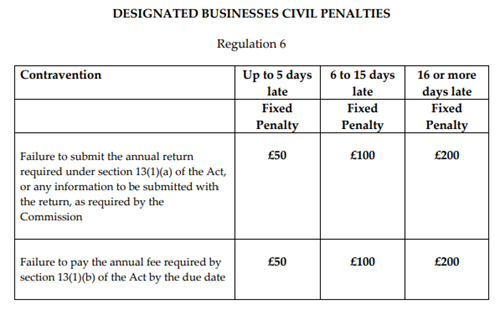 When arranging the fee payment please ensure you include your unique designated business registration number as the payment reference so that we can match your payment. You can find your registration number, which begins with DB followed by 6 numbers by logging into the portal (www.iomdnfbp.co.im). The annual return is also completed by logging into this portal.
If you have any questions or need any assistance completing the annual return which is covered in the Designated Business Annual Return Guidance please call 01624 646000 or send an e-mail to dnfbp@iomfsa.im.