Bogus SMS messages – Standard Bank
This notice is issued by the Isle of Man Financial Services Authority ("the Authority") in accordance with the powers conferred upon it under Section 30 of the Financial Services Act 2008 and in furtherance of its' regulatory objectives.
Bogus SMS messages – Standard Bank
The Authority has recently become aware of a bogus phishing scam currently circulating to residents in the Isle of Man and the Channel Islands purporting to originate from Standard Bank.
The genuine Standard Bank have confirmed that the SMS messages received in the below format do not originate from them and caution should be exercised as the link within the SMS directs recipients to a potentially fraudulent website.
The format of the phishing text message is the same as or similar to:-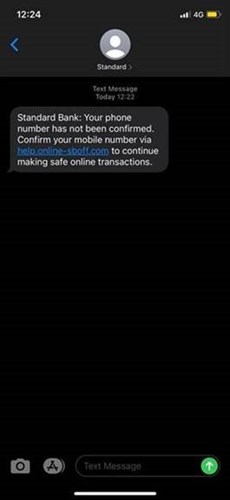 The Authority wishes to draw attention to the following observations:
SMishing, short for SMS Phishing, is where criminals send an SMS ("Short Message Service") often purporting to be from your bank requesting your personal or financial information such as your account or PIN number. Criminals are aware that people are spending more and more time on their smartphones, but also know that users are often using their smartphones on the go, or when in a hurry, and may be less likely to scrutinise and deliberate SMS's with suspicious links. Clicking on these suspicious links may install malware onto your phone, or could take you to a spoof website where you will be asked to enter personal or confidential information
Do not click on links or icons in unsolicited SMSs
Do not reply to these SMSs – delete them immediately
Do not believe the content of unsolicited SMSs blindly. If you are worried about the content, use your own details to contact your genuine provider to confirm the legitimacy of the content
If you think your device has been compromised contact your provider immediately
Create complicate passwords that are not easy to decipher and change them often
Under the circumstances, the Authority is concerned that any person who has accessed the links on the aforementioned SMS messages may potentially become the victim of fraud or it may be an attempt at gaining personal data from the browser in order to steal their identity.
General advice on how to avoid becoming a victim to identity theft and advanced fee frauds can be found on the Action Fraud website at http://www.actionfraud.police.uk/ID and http://www.actionfraud.police.uk/fraud-az-advance-fee-fraud respectively.
Any persons who are already involved in any dealings with the potentially fraudulent SMS messages should consider notifying their local Police, bringing to their attention the contents of this notice. 
Authority Reference: NR/04/2021