Pension Matters

Your pension should provide an income for you when you retire. If you retire at 65 it is likely you will be retired for over 20 years. That is why you should plan ahead so you can afford to live comfortably for the whole of your retirement.
Pensions can be complicated and many people don't really understand how they work.

The Pension Matters leaflet and campaign give you information to:
raise public awareness
prompt you to start you thinking about your pension
help you to make realistic plans for your retirement.
If you are unsure where to start when thinking about pensions some key steps you can take can be found here.  A list of Isle of Man Financial Advisers can be found here.
Pension Matters Live & Local
On 14 June 2018, a public information session for Isle of Man residents was organised by UK professional body, the Personal Finance Society, to provide an insight into:
The different types of pension available
The different options/choices
How to take control of your pension and retirement planning
How to plan ahead and get yourself on track for a financially secure retirement  
How to determine if you need professional advice
Short video clips of the presentations from the event can be found below.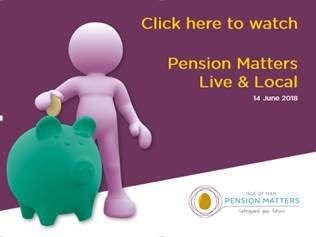 Protect yourself from potential scams and make sure you understand the details of any investment that you make.
The Pension Matters campaign was developed by the Isle of Man

Financial Services Authority ("FSA"), in association with the Personal Finance Society ("PFS"), a Professional Body, based in the UK.
In 2018 the Chief Executives of the FSA and the PFS issued statements which set out their belief in the importance of the campaign.

Karen Badgerow, former Chief Executive of the FSA said,
" The Pension Matters campaign seeks to get people talking about what they want for their retirement and how they are going to fund it. It is never too early or too late to plan for your future. I would encourage you to start planning now and reap the rewards when you retire." 

Keith Richards, former President of the PFS said, " State pensions are only intended to be a safety-net to provide a minimum level of income, but a growing number of pensioners are finding they need to supplement their incomes in retirement by continuing to work."
More details about the PFS can be found on their website www.thepfs.org The PFS consumer focused website can be found at www.thepfs.org/yourmoney - you should note that the specific details on the website are based upon UK legislation.

The campaign has support and input from:
The Office of Fair Trading ("OFT"); and
The Isle of Man Government.
The Chartered Institute for Securities and Investments has previously conducted research into attitudes to pensions in the UK. This info graphic helps to highlight awareness about pensions in the UK.
In 2018, Island Global Research on behalf of the FSA undertook a similar survey on Retirement and Pensions for IOM residents. This info graphic highlights the key results.
State Pension – The State Retirement Pension is paid to you if you have reached state pension age and certain National Insurance contributions (NICs) conditions are met.  For more information about the state pension age and how much pension you could receive, visit the IOM Government's website at:https://www.gov.im/categories/benefits-and-financial-support/pensions/manx-state-pension/

Income Tax – This Department administers tax legislation including legislation applying to pensions. This document compares some of the features of different types of schemes under Isle of Man tax legislation.
Fraud Risks - Pension savings are a target for fraudsters. Never deal with anyone who cold calls you and always check whether an adviser is regulated. You can check if an adviser is registered here.
Remember, if someone contacts you unexpectedly and says they can help you transfer your pot, it could be a pension scam. More information can be found at: www.iomfsa.im/consumer-material/pension-scams-and-risky-pension-investments
The Financial Services Ombudsman Scheme may be able to consider a complaint if unsuitable advice is given by an Isle of Man Financial Adviser.
It is your responsibility to ensure that you are entirely comfortable with any proposed investments. You should do your own research to ensure you understand any proposed investments before signing up.
More information can be found on the Financial Services Ombudsman Scheme website.
Please note, the information sources referred to below are based in the UK. The legislation and regime in the UK is based on similar concepts however the legislation and tax position is not the same as that in the Isle of Man. As such, when accessing this information you should consider the principles surrounding retirement planning but should not assume that the Isle of Man position is identical.


Useful Websites with general information for consumers on UK Pensions
www.pensionwise.gov.uk – a UK government website which provides impartial UK government guidance about UK defined contribution pension options.
www.pensionsadvisoryservice.org.uk - The Pensions Advisory Service (TPAS) works to make pensions accessible and understandable for UK residents. They provide independent and impartial information and guidance about UK pensions.
www.moneyadviceservice.org.uk The UK government set up the Money Advice Service to provide UK consumers with help in dealing with money matters.
www.fca.org.uk/consumers/pensions-retirement-income - The UK Financial Conduct Authority is a UK Financial Services Regulator. They also provide information for UK consumers on a range of consumer issues including UK pensions and retirement planning.