World Investor Week 2020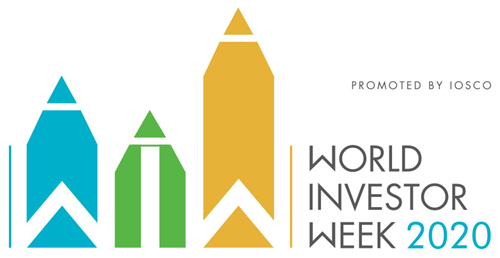 Isle of Man World Investor Week 19 –  23 October 2020
World Investor Week is a yearly international event to raise awareness about the importance of investor education and investor protection.
During the week, individual investors, investment professionals, teachers, parents, researchers, and other interested individuals - as well as firms and regulators - are encouraged to make a special effort to promote investor education and, in particular, World Investor Week's key messages.
Key messages for World Investor Week
Investing Basics  - A smart investor:
Verifies that an investment professional is licensed
Conducts research on a product before investing
Assesses the impact of fees when choosing an investment
Understands that risk exists in all investments
Avoids "get rich quick" and "can't lose" schemes
Recognizes the power of compound interest
Recognizes the importance of diversification
Plans for and invests according to his/her future needs and goals
Recognizes the benefit of long-term, regular and diversified investment
Plans for life's unexpected challenges and investing in uncertain times
ICOs, digital assets, and investing online - A smart investor:
Understands the risks that are associated with initial coin offerings and crypto-assets in general and is careful in deciding whether to invest in these products
Does not forget about the importance of due diligence when considering investments in online and digital environments
Recognizes the red flag warning signs of online investment fraud
Never invests based solely on a celebrity endorsement
Understands the methods in which legitimate firms receive money for investments
This year, the Financial Services Authority ("the Authority") is using social media to promote the Key Messages and the Authority's consumer information. We have also created short videos to reinforce the messages.
World Investor Week Facebook page
How to be a Smart Investor video
How to be a Smart Investor in Online and Digital Assets video
How to be a Smart Investor leaflet
What type of product or service do you need and who can provide it?